Generate Investment proposals that impress prospects

in seconds

....

not weeks.
First understand your client's risk tolerance AND capacity with our questionnaire. Then fill in your prospect's information and click generate. It's that fast.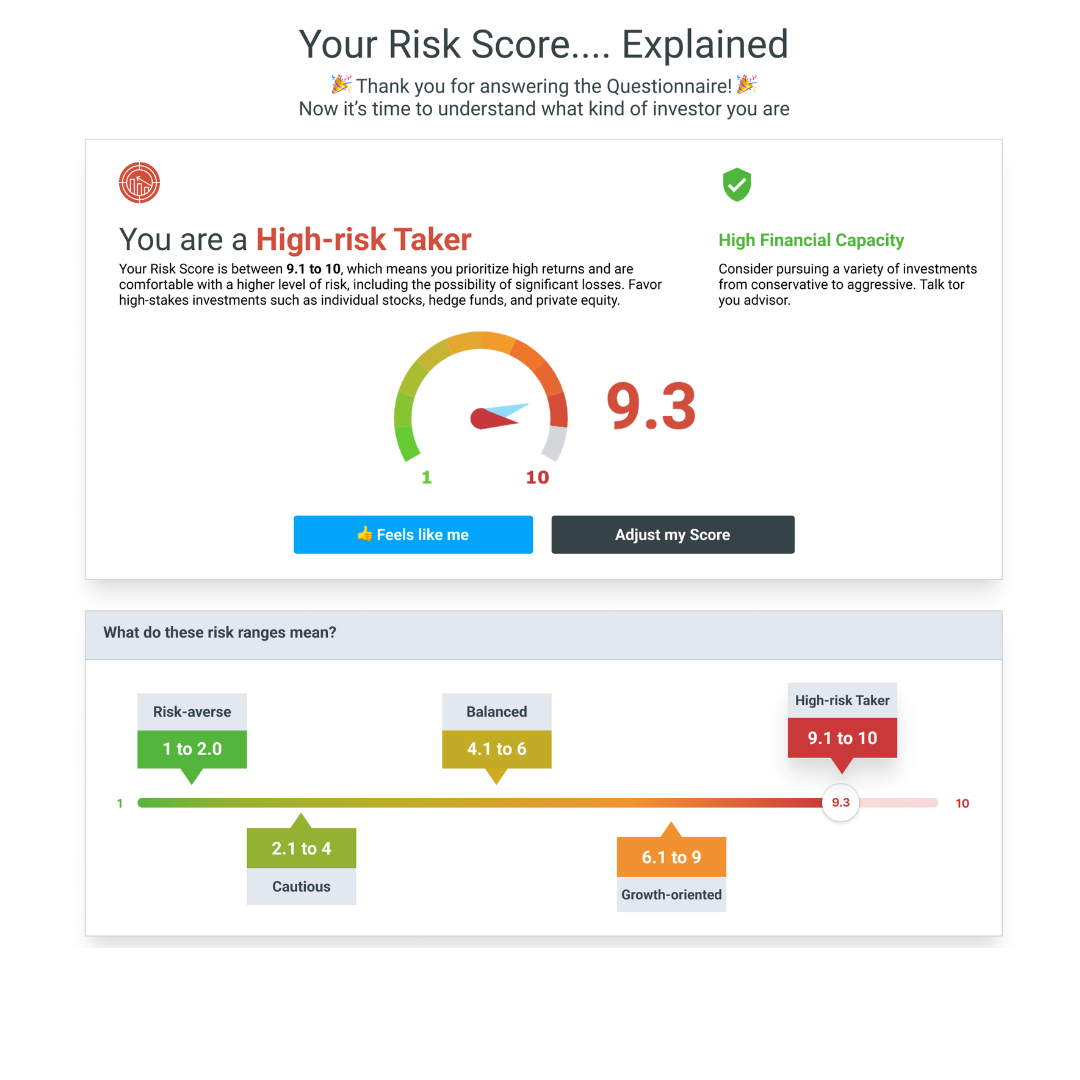 Trusted by Leading Wealth Management Firms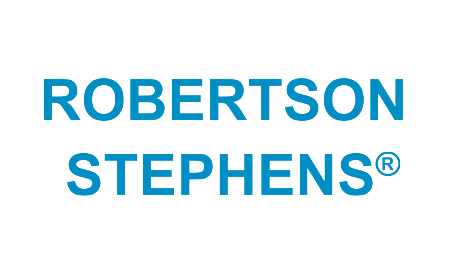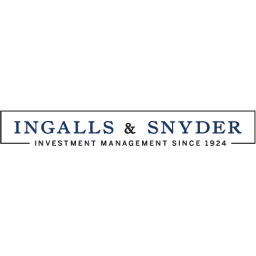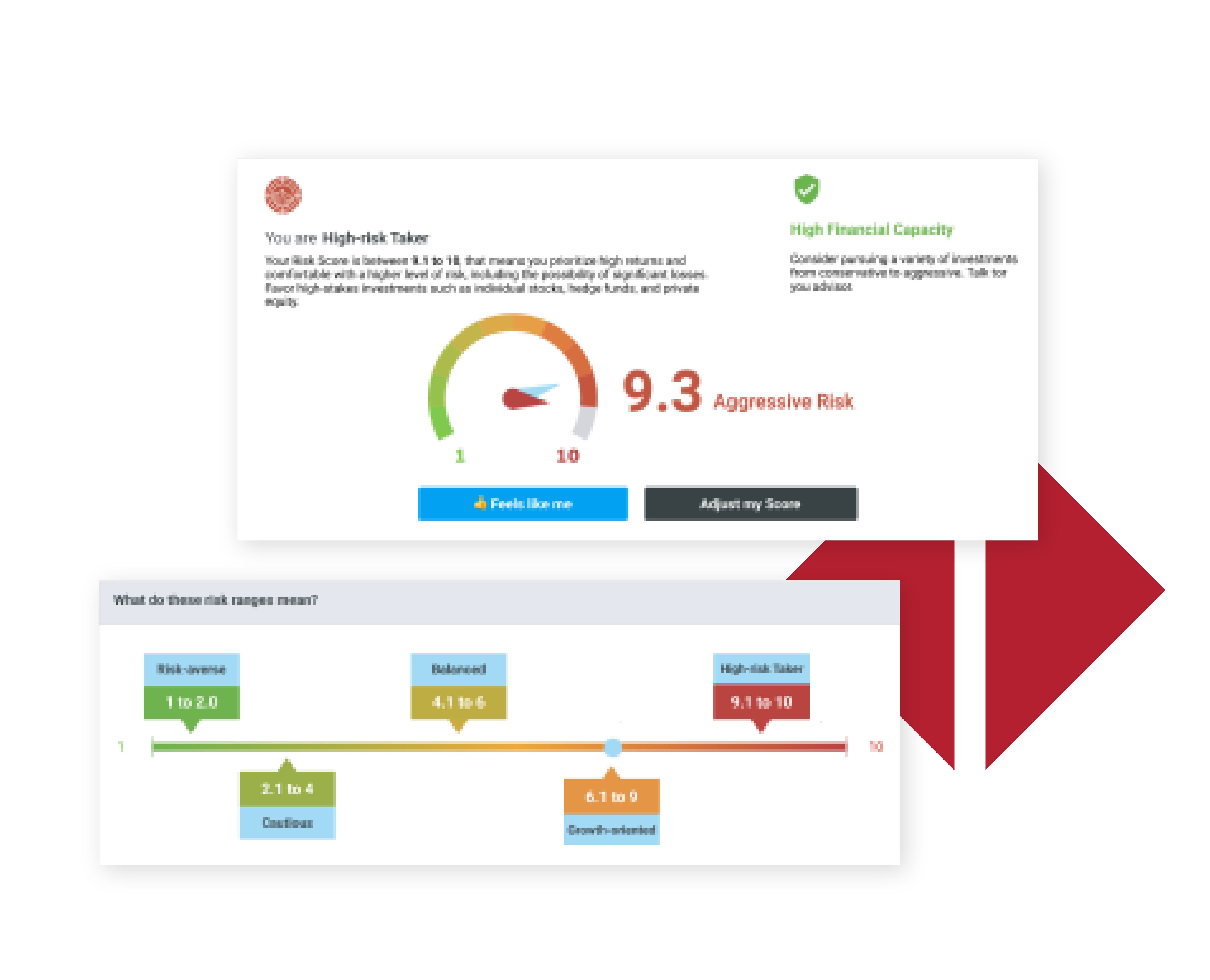 Understand Risk Profile & Financial Capacity
Use our questionnaire to gather information about a client's investment goals, time horizon, income, expenses, assets, and liabilities.

Our system will analyze this data to help you understand their risk tolerance and financial capacity for investment analysis and financial planning.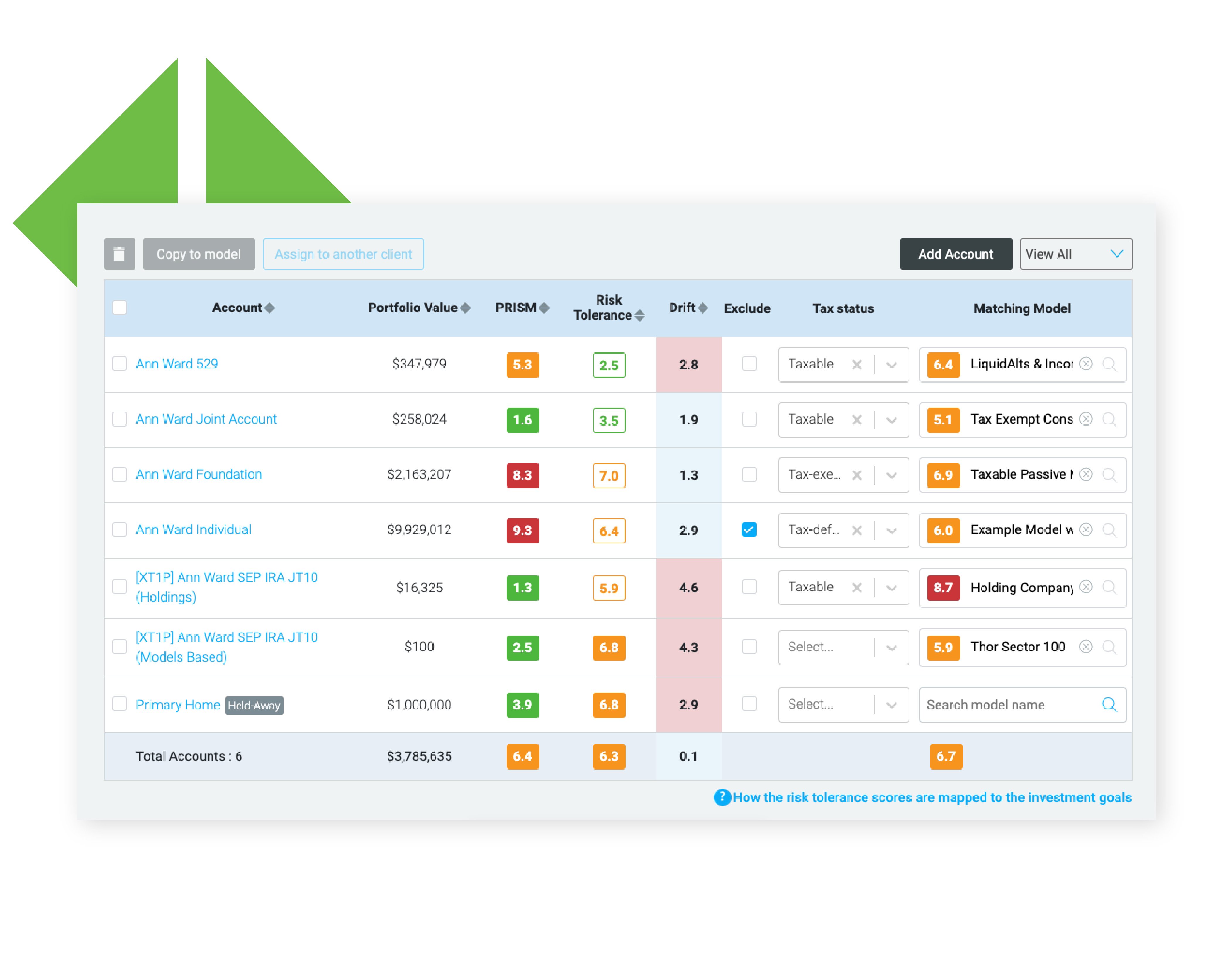 Analyze Investments &
Align Financial Plan
With StratiFi, advisors can easily import their clients' investment portfolios and gain a comprehensive understanding of their clients' investments and risk.

Compare the risk, return, fees, expense and performance of each investment to identify potential gaps or redundancies in the portfolio, and make informed recommendations to help clients align their investments with their overall financial plan.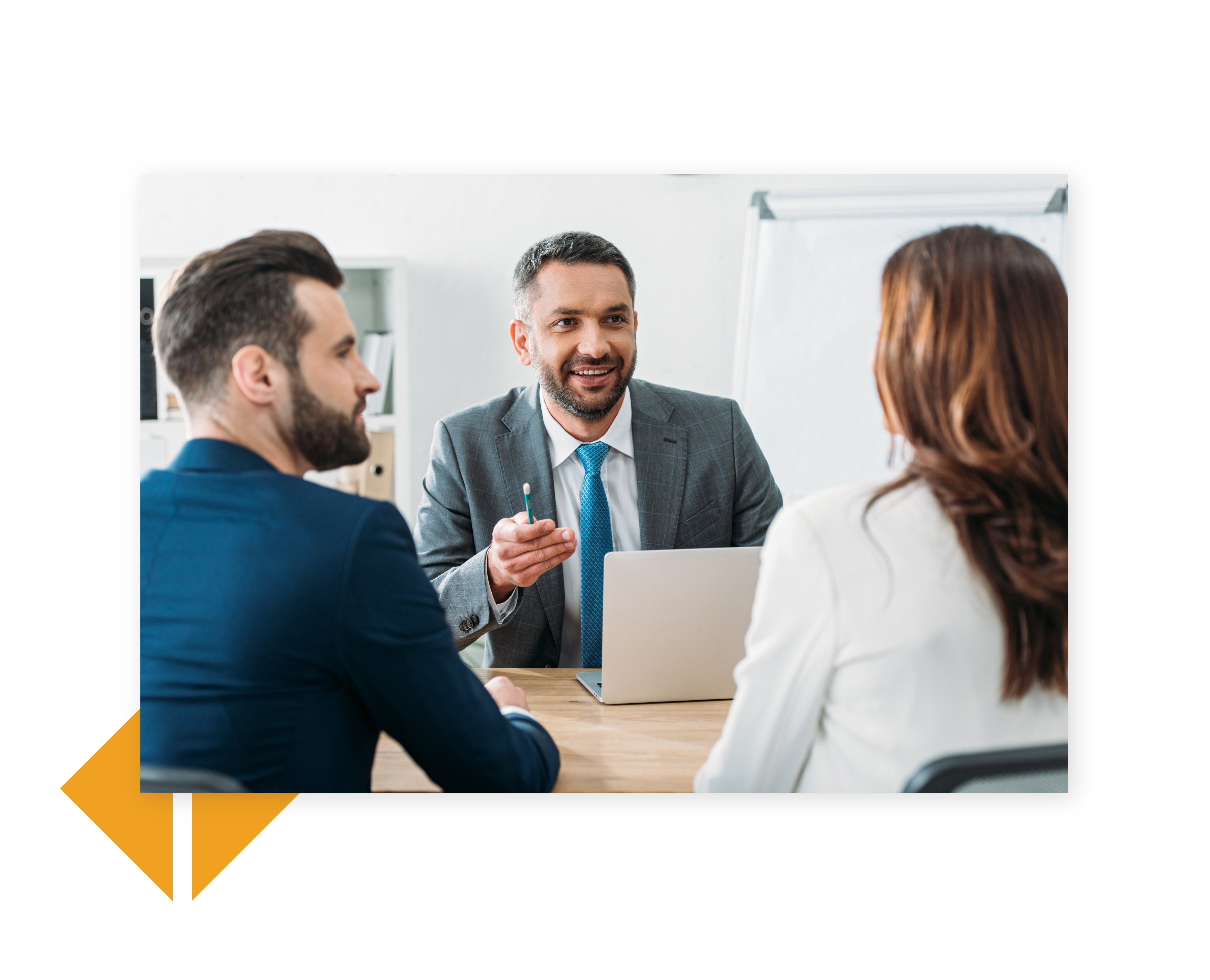 Deliver a Branded

Proposal & IPS
The next step is to set up a template and help you customize it so your prospects are impressed with the output.
Then we'll generate your first StratiFi proposal which you can use in your next prospect meeting.
Never lose a prospect to a competitor again.
Elevate your brand and tell your story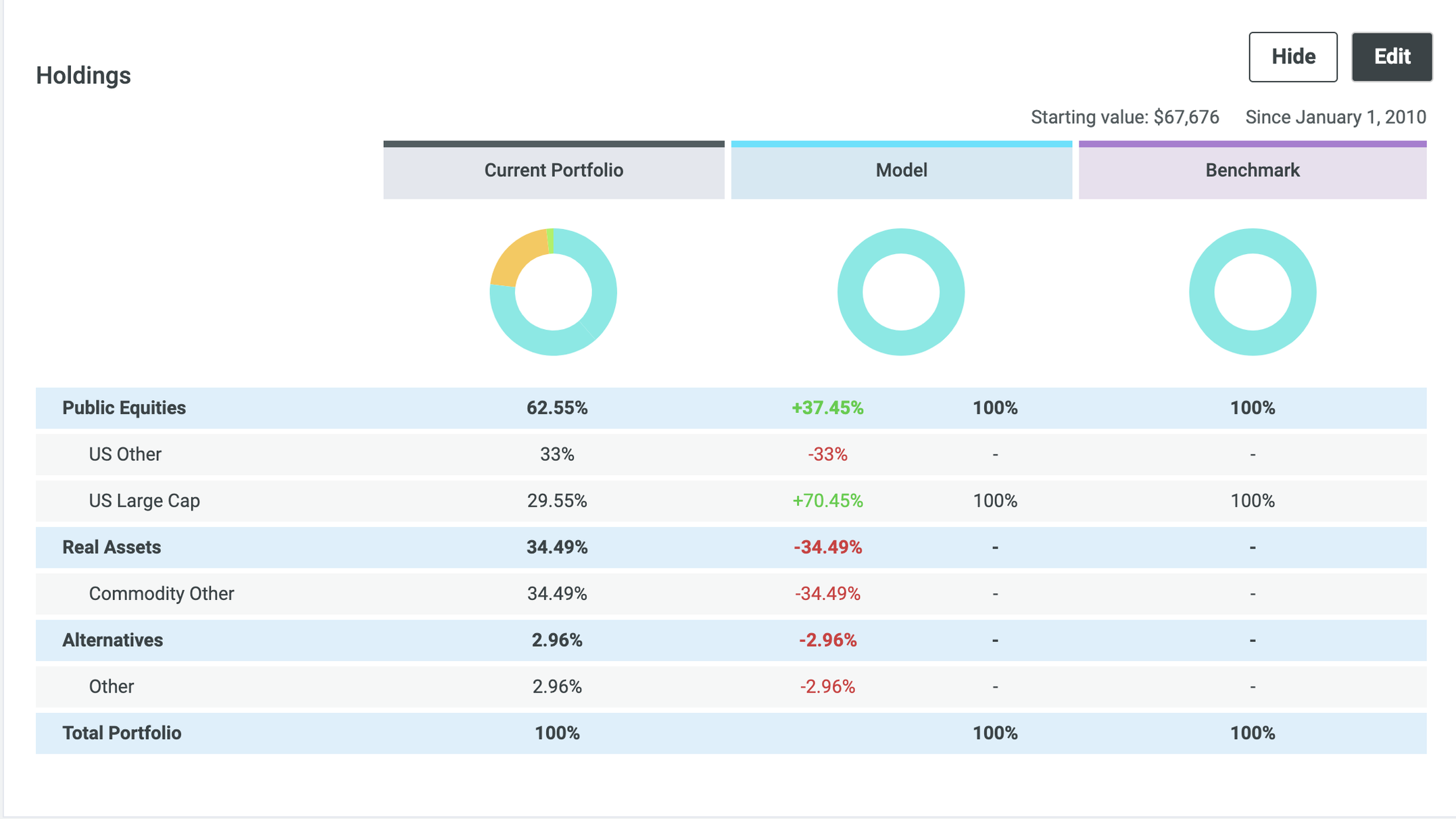 Compare your proposed allocation against their current investments
Compare new investment plans to current holdings and propose changes to achieve financial goals.
To help clients achieve their financial goals, we will compare their current investments with a proposed plan and suggest changes when they are necessary. This analysis ensures that the investment strategy is aligned with the client's goals and risk tolerance.
Highlight savings in fees and expenses
Attract new prospects by highlighting the potential savings in fees and expenses from their proposed investment plan. By demonstrating how their plan can save clients money, advisors can differentiate themselves from competitors and increase the chances of securing new business.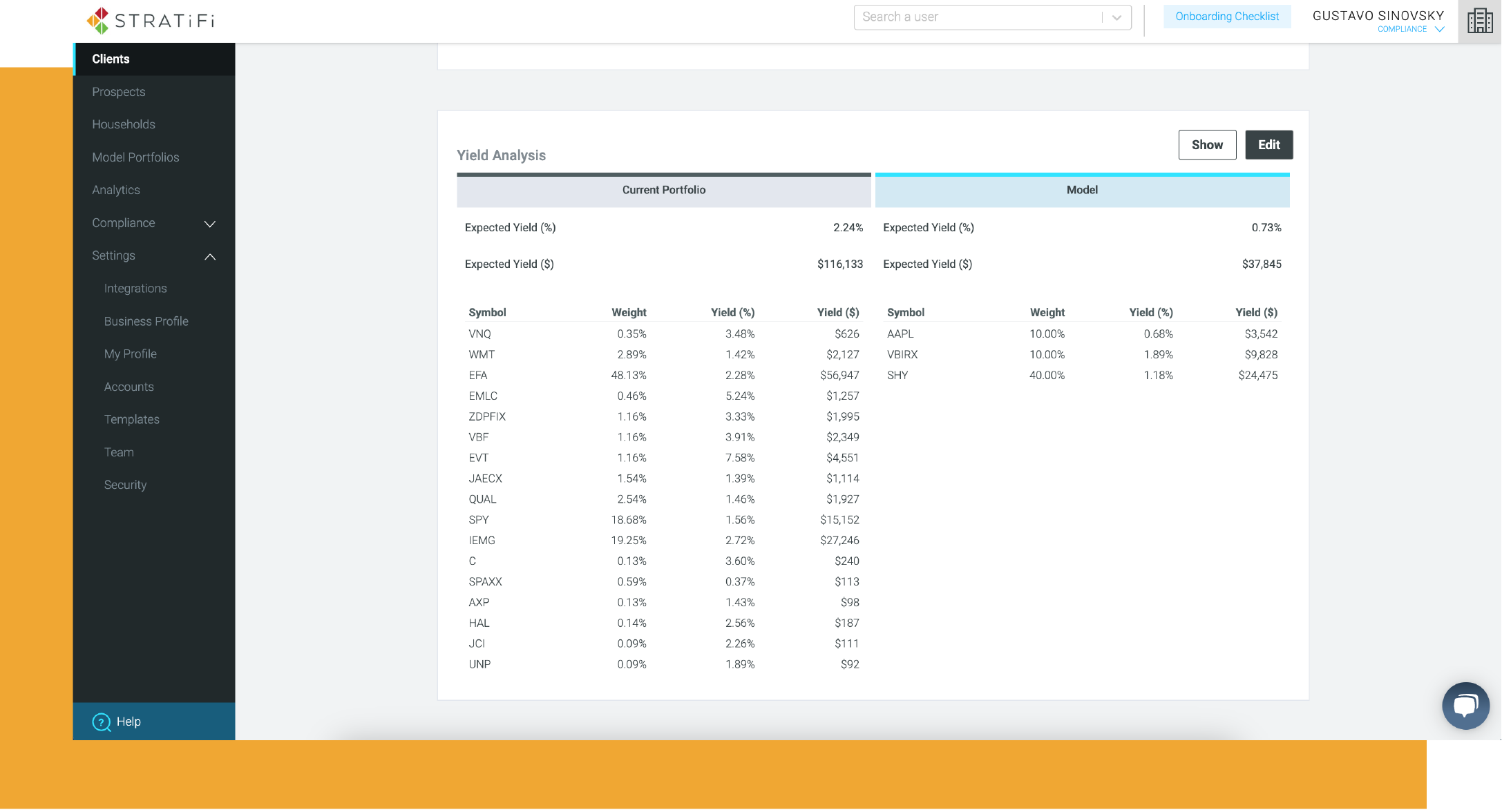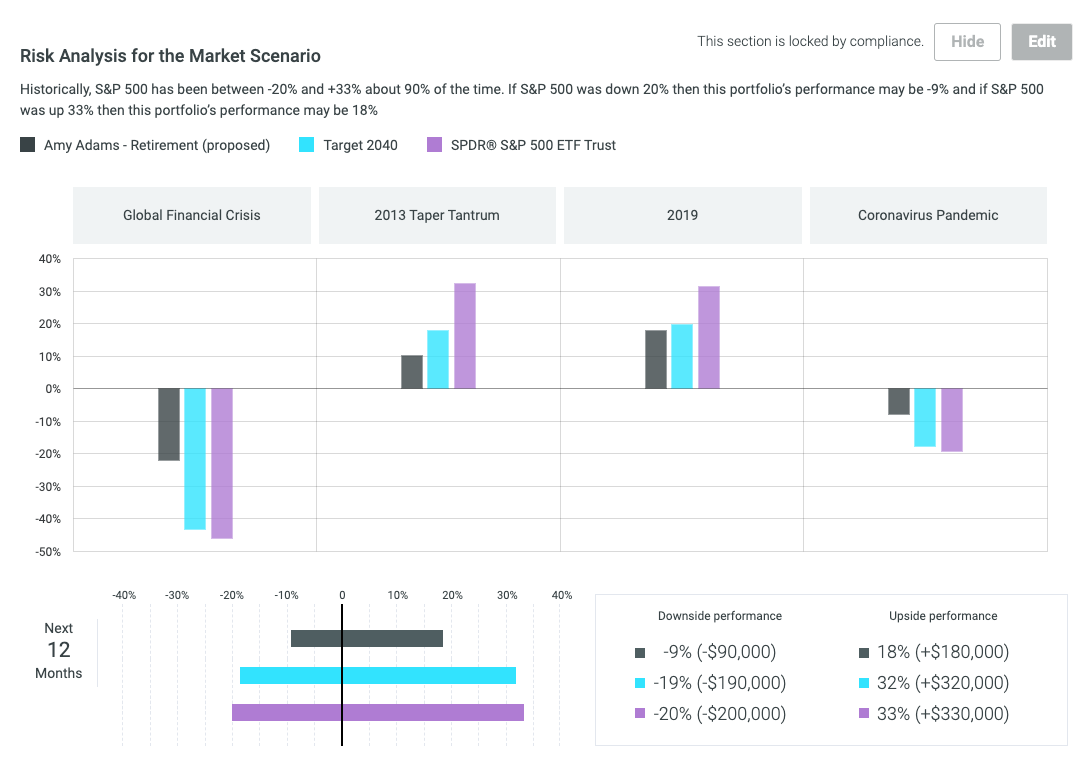 Stress test portfolios in various market environments
Assess portfolio performance by stress testing in different market conditions to ensure stability.
By stress testing a portfolio in various market conditions, you can assess its performance and identify potential areas of weakness. This analysis helps ensure that the portfolio is designed to withstand market fluctuations, and that the client's investments remain stable over the long term.
Personalize the output and save time with templates
By creating templates to present investment changes, you are not only saving time; but you are ensuring a personalized output that is on brand.
Creating templates will allow you to save hours a week and let you stay consistent with your brand, maintain a professional image, and deliver effective presentations to your clients.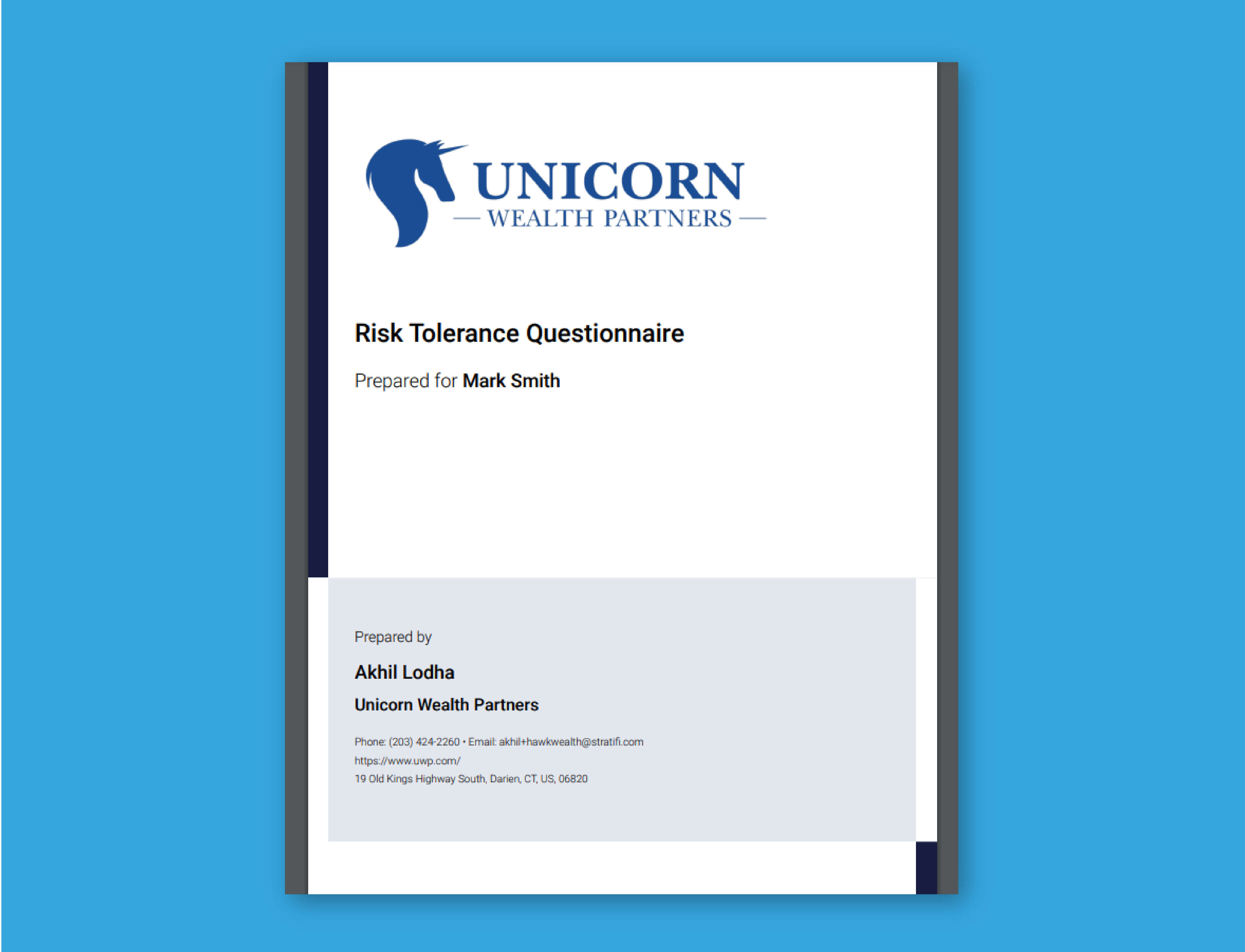 $30 Billion
Assets Monitored
120,000+
Portfolios Analyzed
10,000+
Proposals Generated
Did You Know?
Visuals can increase comprehension by up to

400%1
Keeping proposals brief can increase conversion rates by up to

70%2
Strong branding strategies resulted in an increase in revenue of up to

23%3
1: Based on a study by 3M Corporation and Zabisco 2: Based on a study by HubSpot 3: Based on a study by ConversionXL
Streamline your practice with a single solution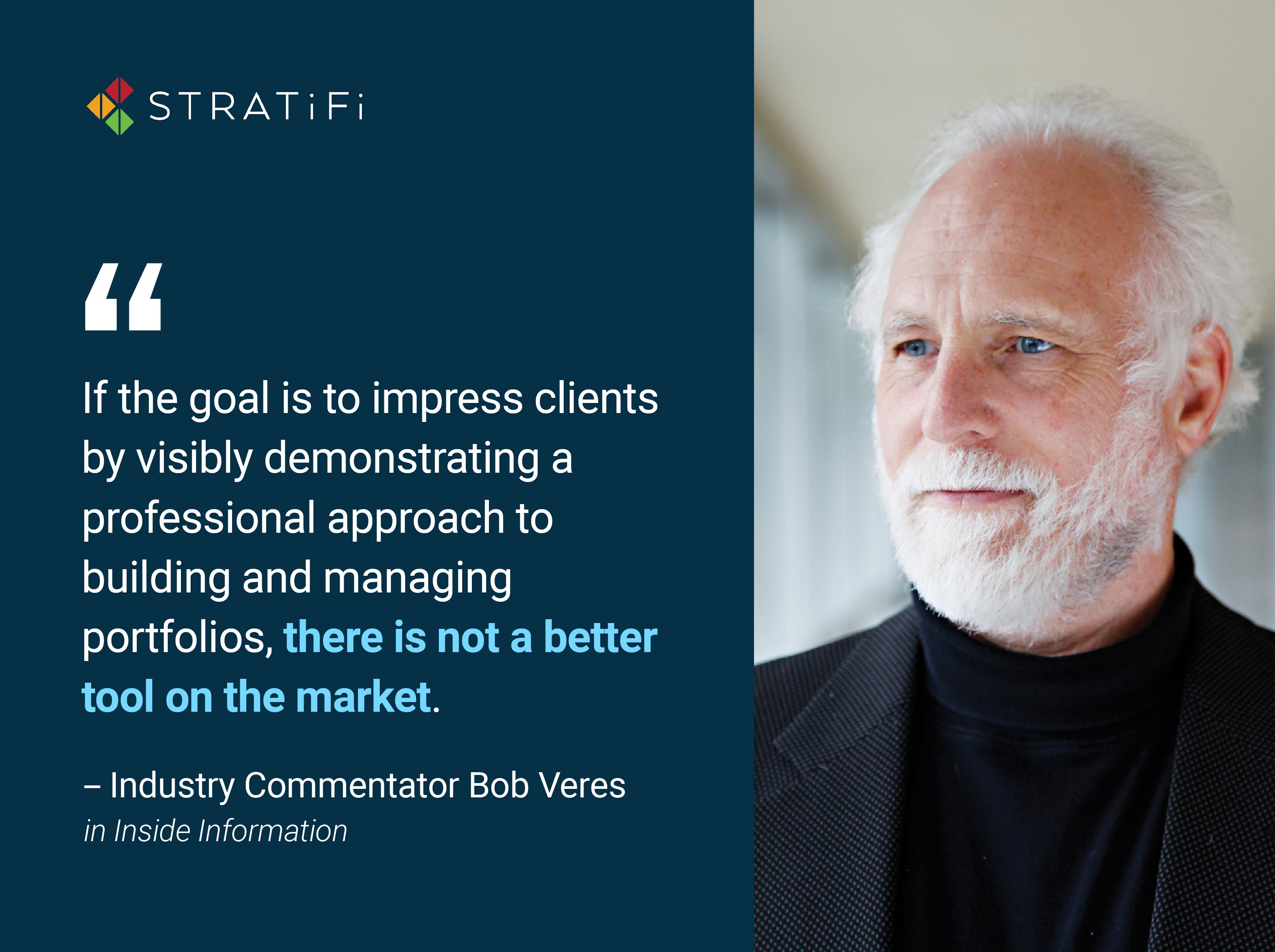 "StratiFi is the perfect way to explain why you're recommending changes to a client's portfolio in a way that they can visually understand it."
"I like the investment proposal, compare, & analyze tools. Also the performance capability as well! Ultimately generating a proposal that also contains a risk assessment!"
What is StratiFi?

StratiFi is a risk management platform that provides a one-stop-shop solution for portfolio risk analysis, client risk profiling and compliance so firms can manage the right risks that are essential for their success.
Is StratiFi easy to use?

Yes, with carefully designed user experience and data visualizations, our users find the platform very intuitive and start to use it immediately.

StratiFi's charts and graphs represent the financial data more effectively and easily than any other software in the marketplace making it easier for advisors to communicate the benefits to end clients.
Does StratiFi have similar features as Riskalyze?

Yes, StratiFi has most of the features that Riskalyze has and more.

With StratiFi, firms can eliminate additional software expenses and empower advisors to focus on the right risks with a modern risk management solution.

StratiFi brings the entire practice together on one system to facilitate better decisions that increase revenue, save money, reduce liability and improve ROI.

Firms can save up to 40% compared to their current solution. Ask us about our specials.
Does StratiFi connect to my CRM, custodian or reporting software?

StratiFi integrates with leading wealth technologies like Blackdiamond, Orion, Circleblack, Addepar, Wealthbox, Redtail, Moneyguide and more.

We likely connect to your custodian through our direct and partner integrations that gives us access to over 20,000 financial institutions.

Check our Partners page for more information.

Send us a message to check if we integrate with your tech stack.
What kind of support and training will I get?

One of the ways StratiFi differentiates itself is by providing our customers with exceptional service. We are committed to your success.

You will be provided with a customer success specialist who will assist you with training and support to make sure you see a positive ROI with StratiFi. In addition, you'll have access to our Learning Center that provides you with detailed video tutorials.